Kontent Machine allows you to feed your WordPress blogs with unlimited amounts of content. Here is how to do it:
1. After you have set your campaign click on Build & Post

2. In the next window right-click and select Add Accounts -> Add one WP blog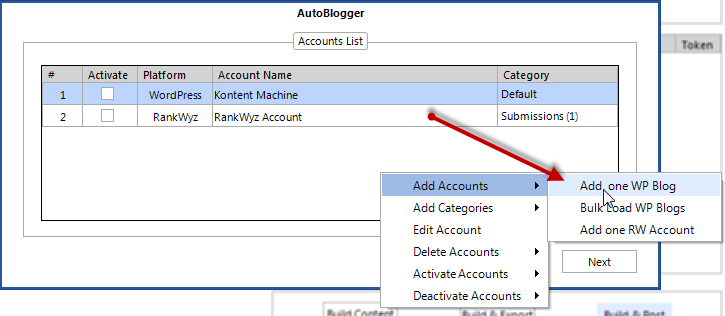 3. In the next window type a name for this account, the URL, username and password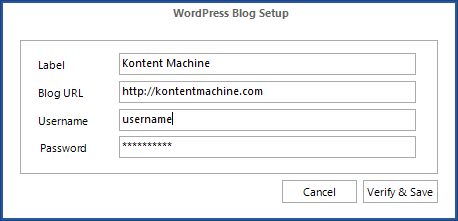 4. After you set it up, click Category to select which category you would like to post to. Note that you can change that later before posting too.
5. In the next window you can:
Select how many articles you would like to post
Schedule the posts
Number of tags per post
Select if you would like to review them before posting
Select if you would like to post them as drafts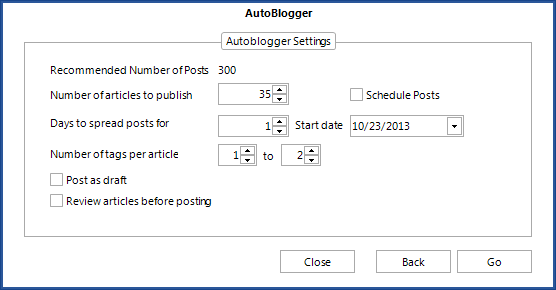 6. If you select to preview the articles before posting you will see KontentMachine's WYSIWYG editor:

A. You can click on each title and change it.
B. You can click and type your own tags or change the existing ones
C. If you have several blogs by clicking here you can change the account you will be posting to.
D. By right-clicking you will bring the contextual menu, and you can delete or preview the selected article. You can also tell Kontent Machine to change the title or the tags.
E. You can edit the articles directly here.
7. When you are done simply click Post All