I Have One Special Offer For You...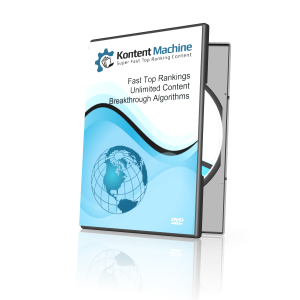 Now that you own SER Powerhouse you will need TONS of fresh and unique content.
That's why I am letting you steal our flagship product Kontent Machine at the stupid-low price of $167 and keep it for life.
The full price is $357 but you are saving $190 and getting it with an insane 64% discount.
[deadlinefunnel type='inline']
STOP  Reading Unless You Want To...
1) Rank #1 With a Bad-Ass Link Profile
Ranking with blog comments is so 2005. The best type of backlinks you could have is contextual links coming from hundreds of unique and relevant articles.
Not only that, but you also need to diversify your anchor text and not leave any footprints.
2) Avoid Footprints With Advanced Co-Citation
Everybody and their grandma is spamming Google and leaving massive footprints.
Don't be the one getting slapped over and over again. With advanced co-citation and two minutes of your time you will be ranking as a pro and still stay under the radar.
3) Shoot All Your Inner Pages to #1
The quickest way to get your website sandboxed is linking to your homepage only.
It worked like magic back in the days. Not anymore, though.
Why not rank ALL your inner pages?
See What Top
SEO Ninjas

Are Saying:
"Kontent Machine is one of the best content generators on the market. It is a huge time and money saver helping to make setting up link campaigns a quick and painless process."

Matthew Woodward

MatthewWoodward.co.uk
"Kontent Machine is a must have for any SEO software user. You just can't beat the premade templates, endless tiers."

Jacob King

JacobKing.com
"Kontent Machine is the gold standard content sourcing and manipulation software for the busy marketer."

Paul Rone-Clarke

DemonDemon.com
"The content is perfect for backlinking campaigns. AWESOME SOFWARE."

Devin Santos

IMDevin.com
"Kontent Machine allows anybody to create thousands of articles that can be as unique, readable or media rich as you want them to be. Excellent for inserting in to SEnuke campaigns through the Wizard, or using in any of hundreds of other SEO applications."

Pobman

ZontSEO.com
What Are Those Guys Talking About??
Powerful Article Builder

Create super-spun articles out of any seed keyword (even 'granny panties')

All Types of Backlinks

Build every type of hyperlink that you need for your SEO campaigns.

Cloud Campaigns

Create and upload your campaigns to the cloud. You can then pull them in whatever tool you want to.

Quick Campaigns

Create thousands of articles with just a few clicks.

Kick-Ass Autoblogger

Push and schedule content for your blog networks with a couple of clicks.

Locally Saved Files

Build super-spun articles out of your locally saved text files.

Embed Videos

Find and embed relevant videos 100% automatically.

Relevant Images

Automatically find and insert hundreds of relevant images.

Bonus Tools

Use the additional 7 tools to power-up your SEO.

Blueprints

Save and re-use your favorite settings as blueprints.

Free Spinner

Save money with the free built-in content spinner.

Content for All Tiers

Use the built-in settings for controlling the content quality.
And Just When You Thought That Was All...
GSA Search Engine Ranker

Automatically fill all the content for all your tiers in GSA SER via the API.

FCS Networker

Send content directly to FCS Networker for bad-ass tiers with the API.

RankWyz

Direct RankWyz integration for powerful blog networks.

Senuke XCR

Built-in export templates for SEnuke XCR

Ultimate Demon

Pre-made template for feeding Ultimate Demon with tons of content.

Magic Submitter

Built-in export template for all fields of Magic Submitter.

The Kitchen Sink

Export for whatever tool you want to with the Export Template Builder.
Questions You Might Have...
What's My Guarantee?
You risk absolutely nothing. Take Kontent Machine for a spin for a full month. If, for whatever reason, during that time you decide it's not the thing for you, just shoot me an email at support [at] kontentmachine.com and I'll return every single dime you have invested to you.
What's with the discount?
My team and I have always rewarded action takers and quite frankly, those are the people we want to do business with. That's why the discount is available only now for SER Powerhouse clients.
What are the system requirements?
Kontent Machine is a desktop application and requires Windows OS and .NET Framework 4. You can still run it on a Mac, but you will need to install a virtual machine on it.
What's so special about Kontent Machine?
Kontent Machine has been designed with one idea only - backlinks. The sheer amount and type of content it produces cannot be found in any other similar piece of software.
Can I use the content I generate on my money sites?
You certainly can, but I don't recommend it. The content on your money sites should convert visitors to buyers while the content from Kontent Machine is meant for the search engines.
What submission tools can I use Kontent Machine with?
All of them. Seriously!
Can I use Kontent Machine for my Private Blog Network?
Absolutely! You can use the Autoblogger to publish and schedule posts on your sites.
Can Kontent Machine generate Tier 1 content?
You bet!