At first we built Kontent Machine for our own SEO needs. While it is not our primary business anymore we are still building and ranking niche websites.
There are internet marketers who make a lot of money from websites built around one or a group of products. I believe these guys have done a far better job at explaining what they are than I could ever do. Make sure to check their public case studies and tutorials:
[divider style="0″]
[divider style="0″]
I cannot stress enough on how important keyword research is. If you get it right ranking and monetizing will be a breeze.
[headline style="2″ align="left"]How to Find Those Gold Nuggets?[/headline]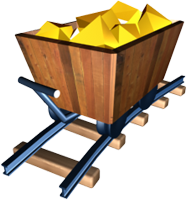 Since I am a bit of a geek I am allergic to the word "manual". The two genius keyword research tools I love are Ultimate Niche Finder & Market Samurai (optionally – LongTailPro).
But the one thing I cannot possibly automate is…
[headline style="2″ align="left"]Coming Up With the First Ideas[/headline]
The whole point of this step is to come up with several niches or sub-niches which people are interested in and I can monetize.
Here I will go with physical products but you can explore Clickbank's Marketplace to find digital ones to promote too. Try to stay away from the "weight loss" and "make money" categories. The competition there is just too much.
People recommend looking at Amazon's Best Sellers or Ebay's Top Products. I find it much faster and easier to go to mySimon's Sitemap.
mySimon is a comparison shopping website with thousands of products. Not only that but you will find pretty awesome long-tail keyword ideas by just exploring its categories.
[headline style="2″ align="left"]What to Search For?[/headline]
Most of the times I am promoting Amazon products. Because of the low commission percentages I always try to find items priced at $100 or above. Usually these are electronic devices.
Alright, in under 5 minutes I managed to find those:
home security systems
remote car starter
wireless home security systems
car alarm installation
cheap car tv
top 10 car subwoofers
most powerful blender
electric car crusher
electric spice grinder
cordless blender
Not bad at all. When I build a niche website I never target one keyword but 10 or more. In this case if I build a website about home security systems I would also include "wireless home security systems". I would create an inner page and promote it separately.
Now go and make sure you have at least 10 good niche ideas which you can easily monetize. In the next post I will show you my way of using Ultimate Niche Finder to generate hundreds of keywords. You will also learn how to filter out the keywords not worth fighting for.
[divider style="0″]
Here are some of the other sources I start my niche research from:
Browsing EzineArticles and exploring what websites are being promoted there
By exploring competitor's backlinks. Often I stumble upon links from private blog networks. In this case I look at the other posts and check where the links are pointing to.
[divider style="0″]
Proper Keyword Research 01 – Coming Up With Ideas
Proper Keyword Research 02 –  The Shotgun Approach
Proper Keyword Research 03 – Now We Are Getting Somewhere
Proper Keyword Research 04 – Getting a Second Opinion
Proper Keyword Research 05 – Let's See What We Have Here
Proper Keyword Research 06 – I Spy With My Little Eye…