Hi guys,
As I told you in the newsletter, Manuel and me are perfectionists. For most of the time this is a bad quality and gets us into trouble but when it comes KontentMachine it has helped us so much in delivering quality, powerful and user-friendly features to you.
The autoblogger is no exception. To be honest, the first deadline we had set for it was 26th of January. We had everything ready… or so we thought. We wanted to use a well known third-party wysiwyg editor but later found out that it didn't offer us the features and flexibility we needed. So… we had to build our own.
It kept us busy for some time and when we finished it we asked ourselves this question:
"What will the autoblogger be mostly used for?"
KontentMachine is famous for creating not just one or two articles but hundreds and thousands of them. So it was pretty obvious that it would be used to feed multiple blogs with hundreds of posts. This made us sit down and think what the best strategy is to make it both powerful and still flexible. So while you can create and post thousands of articles to hundreds of blogs with the click of a button you have the option to review and edit each one of them if needed.
We proudly present KM Autoblogger:

There are four ways to use it:
– While building a quick campaign. In that case you just need to select KM Autoblogger from the Export drop-down menu
– While building a standard campaign. Just turn it ON and press Generate and Post
– Loading a campaign and pressing Publish (you need to turn it ON first)
– Using your own files (coming soon…)
We included instructions on how to use it and how to set it up in the help file so be sure to press F1. Also you might want to have a look at the video here – How to Use the Autoblogger
What can you use it for:
– Feeding your blogs with unlimited content for months ahead
– Building your own private blog networks (In this case we highly recommend investing in a product like ManageWP or Sick Network)
– Building your own Tier 1 websites
– And whatnot…
Guys, we have two or three other upgrades in the pipeline before we go quiet for a while again. The reason… well, as you know we are working off a list with priorities and ideas. The damn list doesn't get any smaller, every time we complete one of the points there we think of a couple new upgrades (that's the curse of the busy minds 🙂 ) so…
We decided to include the new features in Kontent Machine 3. Here is a hint on what will be changed: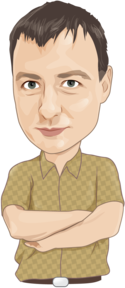 – New look (oh yeah!)
– Better readability and flow of the content
– Even more user-friendly
– Completely revised affiliate program. We want you to make at least 4 figures a month with KM and make them fast so we will help you with that.
– Other *top secret* features which we will not announce yet.
Till next time, guys!
Best Regards,
Georgi