In this tutorial, you will learn how you can use already scraped articles, or PLR articles saved on your hard drive to build your KontentMachine campaign.
Important: You can use files in nested, flat or no spintax at all. KontentMachine WILL NOT apply any paragraph or sentence spinning thus keeping their structure.
1. Go to Home Panel > New Campaign > From the Content Source drop down menu select Locally Saved Files(no spinning)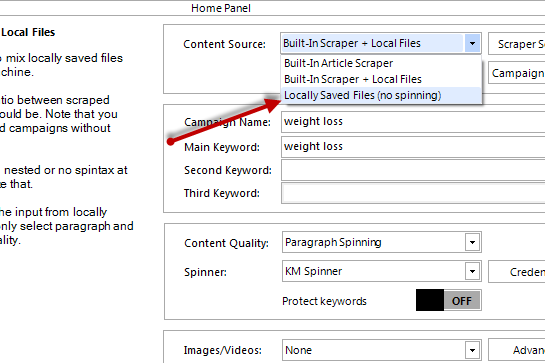 2. Choose a campaign name
3. Type in your main keyword just like when you use the scraper
4. Choose the word/phrase level spinner you would like to use.
5. Select whether you would like to protect certain keywords from spinning.
6. Choose if you would like images and/or videos in your articles.
7. Press Next
8. Select what type and how many of links you would like and set them up.
9. Press Build Content, Build & Export or Build & Post
10. Just drag & drop the files you would like to use in the next window. KontentMachine will recognize what spintax they are in if any.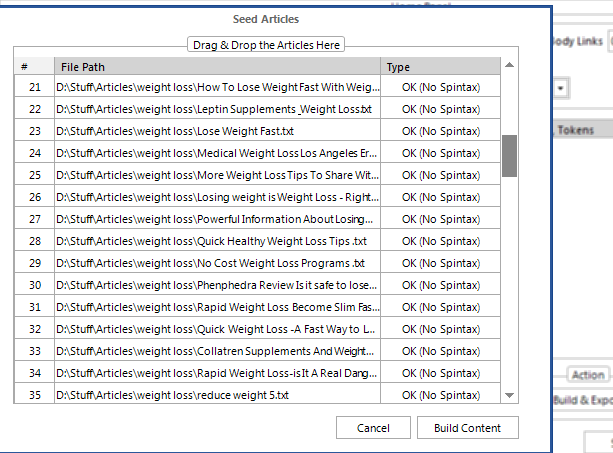 11. Hit Build Content
Kontent Machine will take all the files in that window and modify them according to your preferences. It will also select the correct tags and categories.
If you have enabled images/videos, it will also search for and insert them into your content.
See also:
How to Create a Campaign by Combining the Scraper and Locally Saved Files