Since KontentMachine 2.13.9.34 you could build your campaigns by combining the built-in scraper and locally saved or PLR articles. In this tutorial, you will learn how you can do that.
1. Go to the Home Panel and start a new campaign
2. From the drop down menu for Content Sources choose "Built-In Scraper + Local Files"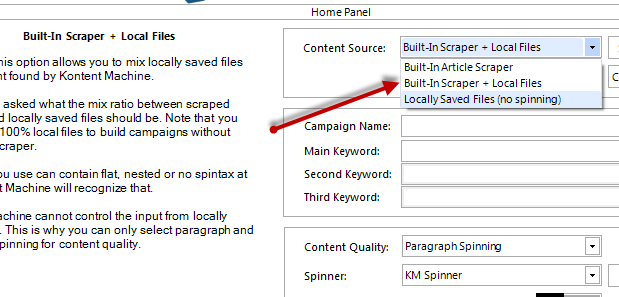 3. Select how many keywords you would like to target
4. Fill in the other boxes just like you are building a standard campaign – keywords, images, videos, spinner and select paragraph or sentence spinning.
5. Press Next and set up your anchor text.
6. When you start building your campaign, a new window will slide in.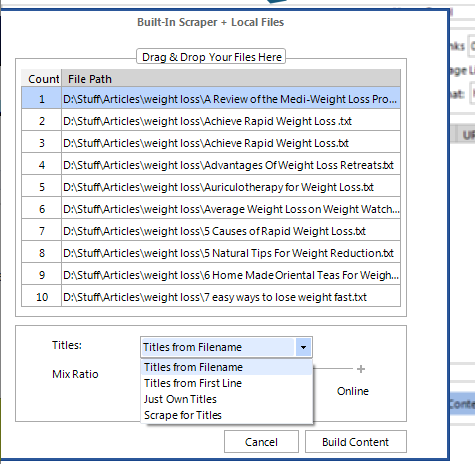 7. Now just drag and drop all the articles you would like to use in this window.
8. Choose the mix ratio "local files vs. scraped" for the campaign.
9. Select how you would like to handle the titles:
– You can take them from the names of the files.
– Titles From First Line – if the first line contains the title.
– Just Own Titles. If you select that option, an Own button will appear. Press it and type/paste your titles there.
– Scrape for Titles. Kontent Machine will find titles for your campaign.
10. Press the Build Content
KontentMachine will combine content from both sources according to your preference. It will also automatically select the tags, categories, summaries and resource boxes.
See also: