After you read this tutorial you will know:
How to work with the Campaign Architect
How to create a multi-tiered campaign fast
How to create a template which you can then use to set up GSA SER projects quickly
How to set up automatic content feeding to your projects
Alright, let's get right to it…
On the Home Panel click the "New" button, and you will see the Campaign Architect. This is where you will be creating your multi-tiered campaign templates which you can use later to build projects fast.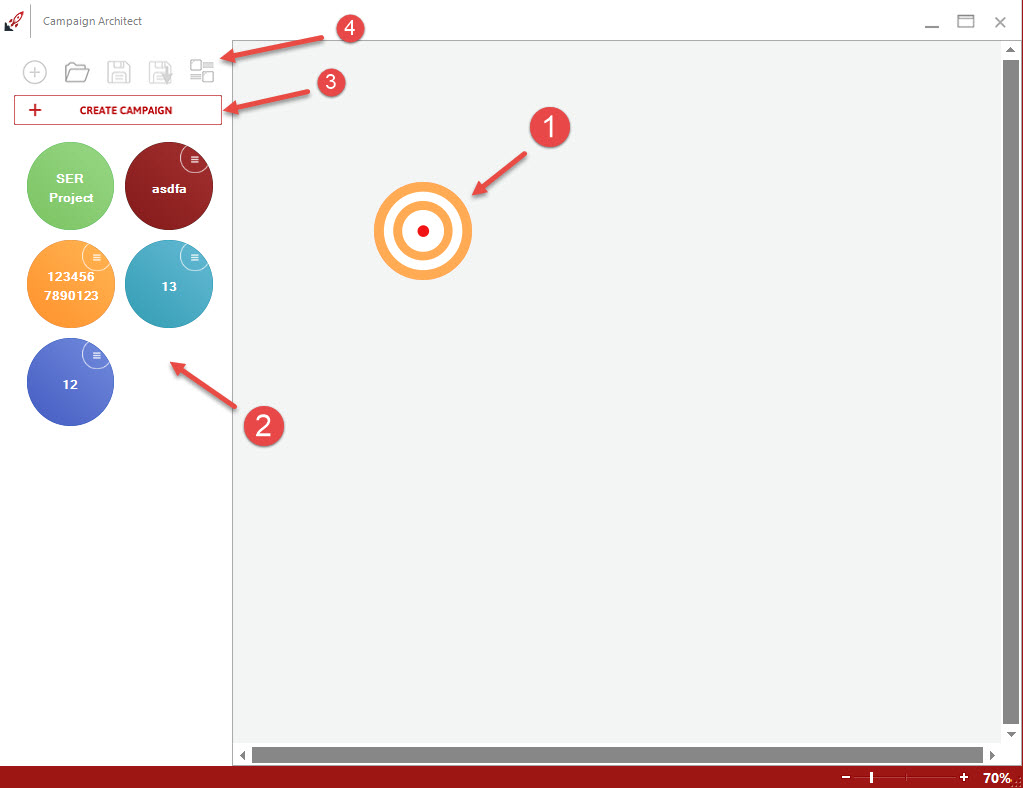 "Money Site". This is your target. It could be just one website or a list of properties (videos, Web 2.0, etc.). At the end of the day, that's what you want to work on. You will set it up for a minute.
"SER Projects". Here you have your saved or new projects.

If you want to create a new GSA SER project, just drag the green bubble (SER Project) onto the canvas
If you have saved a template of a GSA SER project, it will appear right here (don't mind the names I have used, I know they suck). You can use your project templates by just dragging them onto the canvas

"Create Campaign". When you are all done with setting up the tiers and the SER Projects just click on this button and SER Powerhouse will start leading you through the steps of setting up a campaign.
This is where you can choose to start creating a new template, load an existing template, save the changes on the one you are working on right now or save the template as a new one.
How to work with the Campaign Architect
Everything happens by dragging and dropping new or existing GSA SER Projects onto the canvas.
Once there, click on bubble's button to see the context menu. Every option that you are working with has three Modes – Fast Setup, Advanced Setup and Power User. Select whichever you are most comfortable with and depending on how much detail you want to work with.
Also, you can load and save every single setup that you are working with as a template.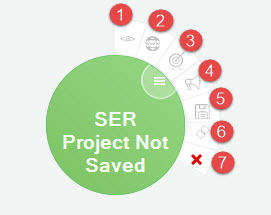 1. URL/Keyword Settings

Here is where you can set up your keywords and URLs.
2. TierFilter Settings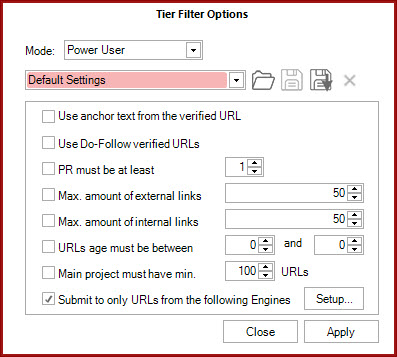 Here you can set additional options for this particular SER Project.
3. Engine Settings. Select the engines you would like to work with.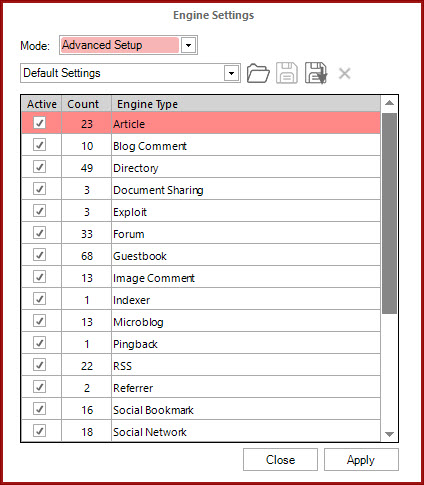 4. Project Options. Those are pretty much the standard GSA SER options with the option to save them for later use.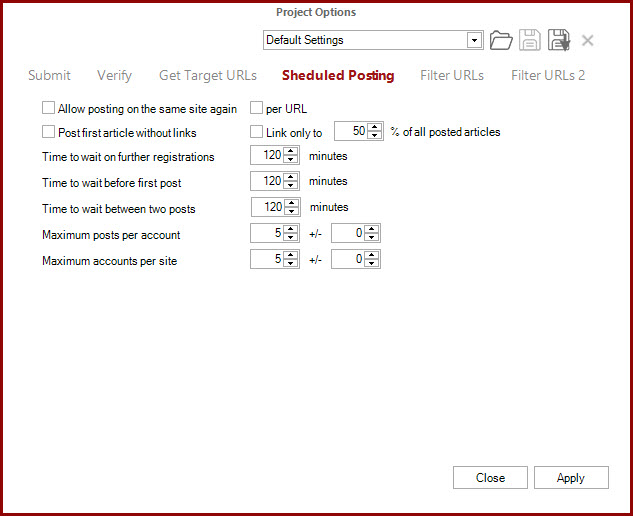 5. Save SER Project. Save the whole SER Project with its options and it will appear on the left. Later you can just drag and drop it onto the canvas.
6. Connect SER Project. Connect this project to another one to create tiered campaigns.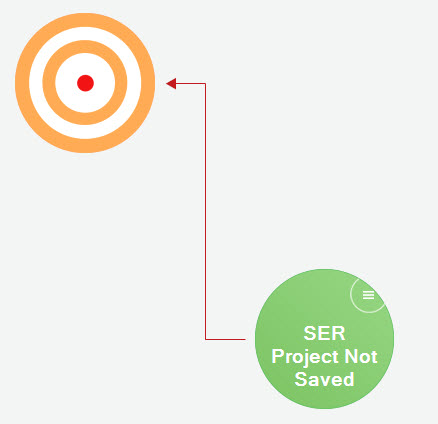 7. Remove SER Project. This will remove the project from the campaign you are setting up. Note that it will not delete it. If you want to delete a saved project, do that by opening the context menu of the project in the left pane, not in the canvas, and select "Remove SER Project."
How to Create a Campaign
After you are done working with your template it's time to set up the whole campaign. Make sure you save it first if you want to re-use it later.
Click on the "Create Campaign" button and the Campaign Creator opens up.
1. Campaign Details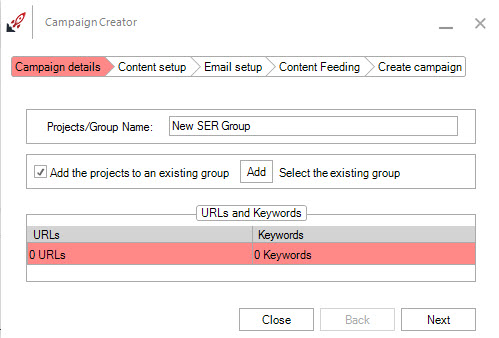 Type in a new GSA SER group name OR add all the projects to an existing group
Double click inside the lower panel to enter your URLs and Keywords. By right-clicking inside the text boxes, you will get the following context menus and additional options to choose from.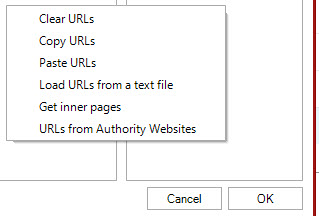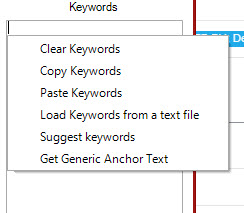 2. Content Setup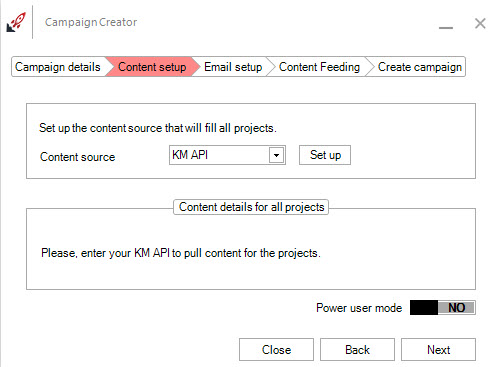 Here is where you can select the content source for all your projects in the campaign.
When you select KM API for a content source and click "Set up" this will show up: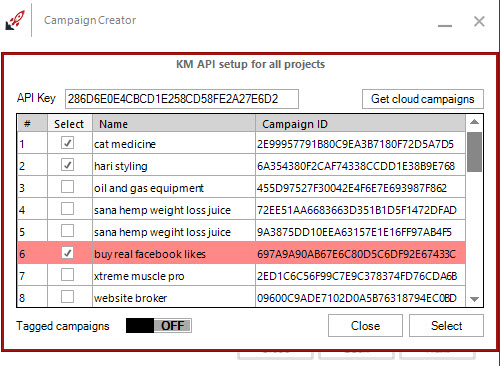 Select the cloud campaigns you want to work with.
Advanced: Work with tagged campaigns. You don't have to work with individual Kontent Machine campaigns. What you can do is create several and assign a tag to them. Then you can tell SER Powerhouse to pull content from campaigns with that tag only. At the same time, you can delete and add new content to that tag.
Click on the button next to "Tagged campaigns" to see all the KM Cloud Campaigns that have tags. In my case, there is only one tag.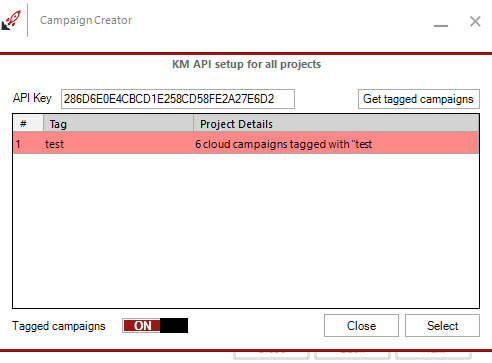 How do you create tagged campaigns in Kontent Machine?
When you are building a new KM campaign and sending it to the cloud you will see this popping up and asking you for a tag.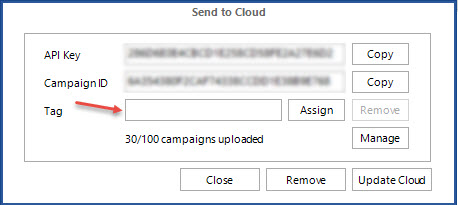 To assign tags to saved campaigns, simply go to "Cloud Campaigns" and right click on whichever campaign you want to work with.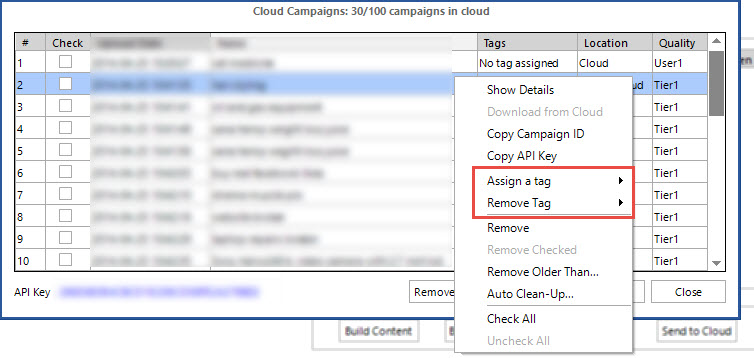 Power User: If you want separate content sources for each project in the campaign, select Power User and set them up.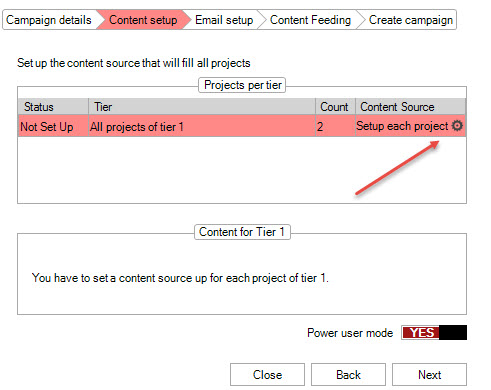 2. Email Setup. This is where you enter your emails and assign them to projects.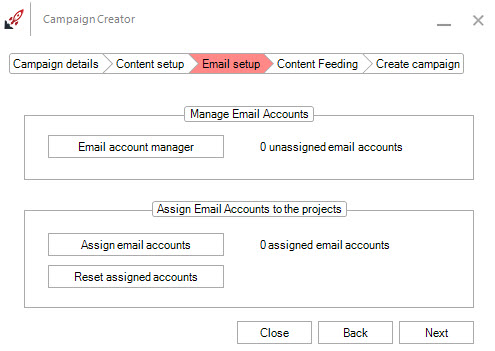 3. Content Feeding. Here you can choose how and when you want your content to be updated.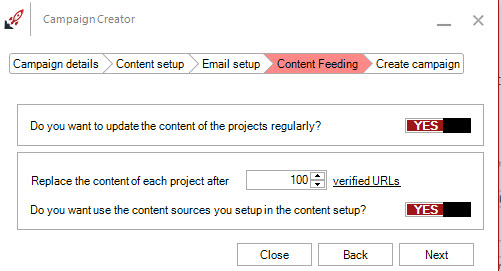 You can refresh it regularly every XX days or whenever you reach a certain number of verified URLs. Also, you can select other content sources than the original ones.
4. Create Campaign. You will see a summary of your campaign settings here.